TruePhase Af Tester

Tensile Testing

Rotary Bending Fatigue Test

Optical Profilometry

Weld-adhesion Test

Corrosion Resistance Test

Grain-size Measurement

Micro-hardness
As one of the key indicators on super-elastic performance, Active Af is of vital importance to secure the realization of super-elastic functionality. Since most of Nitinol implants are small in size (at the level of mm) and light in weight (at the level of mg), the conventional testing methods listed in the attachment of ASTM F2082 unable to test precisely the active Af.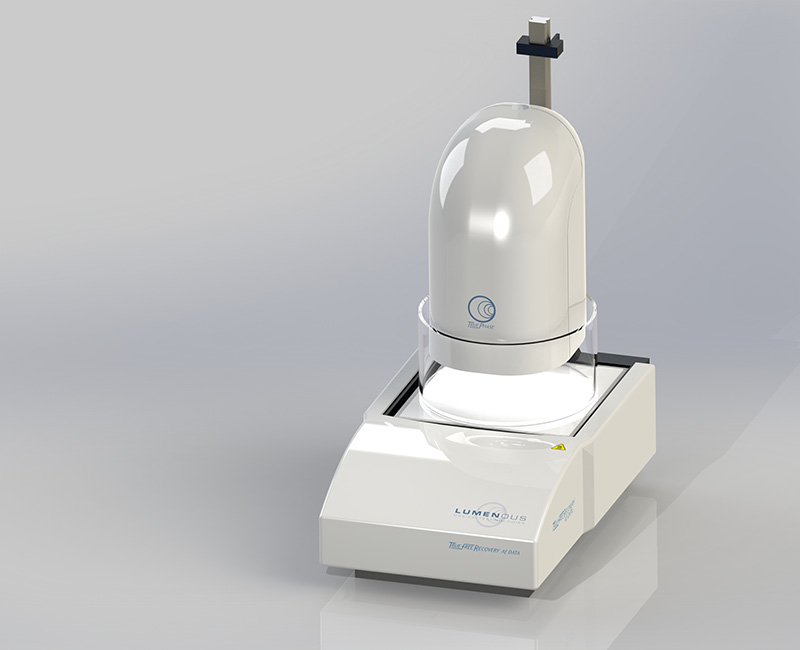 Developed my Peiertech's parent company Lumenous, TruePhase Af tester can wonderfully do such testing jobs with characteristics of
True Free Recovery

Non-destructive

Measure various devices and sizes

High-throughput with both testing data and videos

Multiple samples in one run

Easy-to-use

Portable
The testing results can be read in any of the following Af determination methods: Tangent lines and 95% recovery, from the testingcurves, as specified by ASTM F2082-15.TruePhase also offer 100% recovery (end-point) Af determination method to mimic how a human would interpret the result when performing manual visual Af testing.
Tensile Testing
Tensile testing per ASTM F2516-14 Standard Test Method for Tension Testing of Nickel-Titanium Superelastic Materials is a must for superelastic Nitinol wires and tubes, by which both mechanical properties and super-elastic performance data can be obtained, recorded and reported. The tensile tests are programmed and pre-set per above standard. Most of such tests are done in room with controlled temperature of 22±2°C.
Rotary Bending Fatigue Test
As defined in ASTM E2948-2014 Rotating Bending Fatigue Tests of Solid Round Fine Wire, PEIERTECH has established such corresponding testing devices, with adjustable bend radius to achieve specified strain for a given diameter of Nitinol wires and automatically count of the cycle numbers.
Optical Profilometry
As required by precision manufacturing, accurate measurement of dimensions of medical implants and interventional devices is of critical importance to secure the performance. Currently, we have different optical measurement ways in identifying structures and device features, as well as all the key dimensions in 3D. The accuracy can be controlled at 0.000* mm level, and the optical measurement can be realized by different lighting such as bottom lighting, top-lighting and tilt-lighting if necessary. Also imperfection of the material or part can also be identified reasonably.
Weld-adhesion Test
One of the key measures to secure the welding adhesion is to test the welded parts, in either non-destructive or destructive way, especially in the prototyping of welding. Every new welded procedure has to subject to such evaluation and verification.
Corrosion Resistance Test
As a compulsory requirement, all the implanted metallic devices or parts have to subject to Corrosion Resistance Test per ASTM F2129-08 Standard Test Method for Conducting Cyclic Potentiodynamic Polarization Measurements to Determine the Corrosion Susceptibility of Small Implant Devices. As added service, Peiertech can supply such test on Electro-polished and passivated medical parts. For Stainless Steel implants, the parts have to go through ASTM A967-01 Standard Specification for Chemical Passivation Treatments for Stainless Steel Parts. Other electro-polished and passivated parts such as Co-Cr parts, Nitinol parts can also be tested with above standard as reference.
Grain-size Measurement
Peiertech has the capability of check the average grain-size of parts per ASTM E112-13 Standard Test Methods for Determining Average Grain Size, especially when the parts are subjected to high-temperature heat treatment. The testing data and photos can be pulled out for traceability.
Micro-hardness
Most of high-temperature heat treated parts need to be evaluated on the micro-hardness. At Peiertech, our micro-hardness meter can be programmed tested and the data can be both stored and printed.